Freelancing is a career you should build gradually. The Academy helps you through that process.
The life of a freelancer can be lonely and frustrating (it doesn't have to be), and all too often, people who genuinely want to try out the freelance life get stuck either never trying freelancing because they're looking for the perfect or correct place to start, or they get stalled after starting, because they're looking for the perfect or correct next step to get to move forward in their freelance career.
If there's one thing you need to remember about freelancing, it's that there are no perfect answers to freelance questions. Say that one more time and really let it sink it, because if you can make that shift in mindset (likely programmed into you by previous employers) you'll save yourself a ton of wasted time and frustration.
What does exist though are basic elements that every successful freelancer should be tending to on a regular basis. That's what we focus on every day, week, month and year in the BlackFreelance Academy.
My Story
As I built my freelance career from an excited start after being laid off, to frustration and confusion, to confidence (I'll be real…still with some occasional annoyance and doubt mixed in), I noticed that I kept returning to six different foundational elements that I was constantly building, reviewing, and refining.
They were aspects of my freelance work that were essential to bringing me more clients, increasing my rates, saving me time and frustration, and ensuring that I was delivering a service that businesses would tell me and their colleagues great things about. Those elements were…
The BlackFreelance Academy takes freelancers — whether you're a writer, engineer, designer, sales person, whatever your freelance niche is — through a focus on each of those elements on a monthly basis. That's why all of our Academy members, whether you decide to stay on after your trial month or not, get a free copy of our mini e-book, The BlackFreelance Growth Loop: Six Essential Elements Of Your Freelance Career.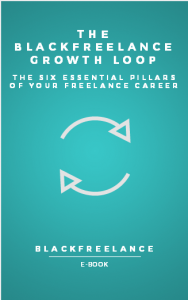 You're perfectly welcome to take the book and apply it on your own, as frequently as you like, but…if you'd like to work through those elements with the support of other freelancers (as well as have our 6-week introductory course delivered to your inbox), come claim your free month's Academy membership today (you'll get a link to download the e-book in your introductory email.) We'd love to help you kick off a strong start (or continuation) to your freelance career at BlackFreelance!
Megan.
P.S. If you're not ready, sign up for our weekly email where you'll receive tips and site news to keep you motivated in your freelance journey.