"Part time? You're going to cap out at around $225K a year" 
He said it so matter-of-factly that I had to just sit in silence. When I started freelancing back in 2014, I'd never considered that that schedule and income was a possibility for my freelance business as a B2B copywriter and content strategist.
But today I've seen it — my coach was right. (Spoiler alert: Every freelancer isn't guaranteed that kind of income. Three things were critical…being a "B2B" freelancer, basing my business on my employment experience, and the rates he recommended charging.)
I also realized something else. Most freelancers? Are missing out on huge opportunities for lighter schedules and increased income. (Did you know that skilled freelancers out earn most employees?)
http://chrome-extension://bdfcnmeidppjeaggnmidamkiddifkdib/viewer.html?file=https://s3.amazonaws.com/b2blauncher/EdGandia_PricingGuide.pdfThose opportunities are possible at all experience levels…unfortunately people are missing out even though the answer is simple…
Taking responsibility for grasping the freelance and lifestyle possibilities in front of you.
You now how they say everybody's the CEO of their own career? Well that's extra true with freelancing.
Problem is, when it's just you, out there alone, it's hard. Especially as a Black freelancer…we have fewer professionals to emulate and fewer connections in the freelance space.
It's hard to ask the right questions, hard get the right answers, and hard make sure your freelance business is doing what it should be — improving your life.
That's where the BlackFreelance Academy comes in.
This is where your big results are born.
We're going to do things a little different and talk price right up front…no scrolling or clicks or long sales pitches. That's because I want you to be able to consider the value I know you'll get here at BlackFreelance in very specific ways…even if you're only just considering freelancing.
You have options that are subscription and non-subscription (because I know you've got enough monthly payments) that average around $7-10 a month. I want you to make that back with ease.
I want you to chuckle when you ask your accountant about writing that membership off as a business expense every year because you know you're making exponentially more than you're putting in.
Now that that's out of the way, let's talk about why you need to consider joining the BlackFreelance Academy…
You ever try to hit a fitness goal alone?
I have, and I did it!
…but it didn't stick.
That's because as soon as I hit a bump (a short but extended illness) all that will power…all that passion that was running on nothing by my personal grit and drive? They faded away.
I needed a more sustainable energy source. I didn't find it until I found my people.
I didn't see long-term, sustainable lifestyle change until I built deep connections with a community.
The same thing goes for freelancing.
As a full-time freelancer who out-earns her employed salary (even after taxes…while working part time) I give most of the credit to one thing — the fact that years before I made the "jump" I had freelance friends who were building the same kind of balanced approach to business that I was.
No Grinders, no Hustlers, no influencers…no "Team No Sleep" — just people who wanted full lives and businesses that contributed to those lives.
I want to invite you to get the same leg-up in your freelance business by joining the Academy.
The BlackFreelance Academy is built to keep you connected — consistently refining a freelance life that works for you…because you don't just set and forget your freelance business. It isn't a rotisserie or a microwave.
This is the framework we use. Think of it as a layer you place over your business to simplify your decisions and direction…making sense of all the thousands and even millions of options you have in coaching, books, podcasts, courses, and business possibilities.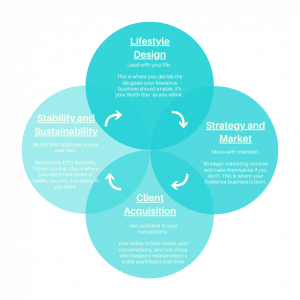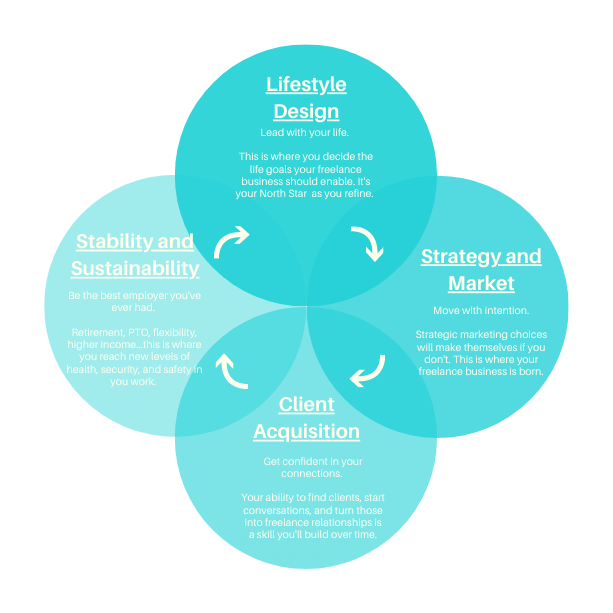 Your business is continuously being impacted by your decisions, market forces, laws and regulations, even your client choices. All those changes mean a constant flow of new challenges and a wide world of new opportunities.
The Academy is set up to help you navigate and take advantage of all of those. So what's it look like?
Self-Coaching: Weekly "check ups" in your in-box based around three, driving "roles" in your freelance business — CEO, Chief Marketing Officer (CMO), and Chief Operations Officer (COO). Every week you'll step back, take an objective look at your business, and decide what you need to do to make the progress you want.
Community: A special area in our larger community, just for more advanced freelancers who're taking action on their goals while contributing to and benefiting from collective community wisdom. We're here with you every day, every week, every month, to talk freelance strategy, frustrations and insecurities, client management, investment/savings/retirement, choosing good coaches/educational programs, major jumps in income…everything for freelancers who are ready for something better.
Influence: This platform is always growing to meet the needs of Black freelancers! Academy members have a front seat in directing how things progress.
So how much does it cost again?
To make sure you're always seeing ridiculous return on your investment in your freelance business, it's as low as $7 per month — less than you pay for Netflix.
That means if you sign just one client that you wouldn't have on your own, you've already paid for months, if not years of your subscription.
I know you'll get a return on your investment every single month in time saved on trial and error alone, and want you to know the same thing.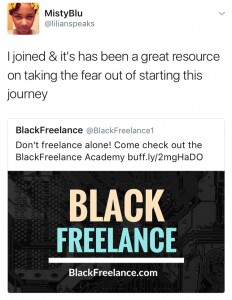 You're probably a little curious by now, so let me tell you a little bit more about what goes on here…
There's a basic set of values that everything we do in the Academy is built around.  You're going to get pushed in these all areas, and that's to help fill in the holes in our businesses that employment used to support, but that we all tend to miss when we're out here alone on our little freelance islands.
Reality and Numbers: I don't want you out here playing a guessing game or "feeling" your way through freelancing. This life is a lot of trial and error, but you want to go at it with the best information possible. I'm going to encourage you to read market reports, get your skill game competitive, and even study some basic business concepts (which isn't hard to be honest…people just like to make it sound like it is.)
Money and Law: We don't have enough honest conversations about freelance finances and legal questions — I'm talking retirement plans, corporate structure, reinvesting in our businesses, cashflow challenges, how much we really spend on coaching. This is a private place to do that.
Cooperation and Support: This site isn't just about me. Sure, I've got perspective and insight, but you do too. We all do. We have a collective wisdom that more of us need to be tapping into. That's why we have a forum and group chats to share what we all know and learn along the way, and to support our self-coaching efforts, (even in finding our way to great traditional coaching).
Sustainable Habits: You know how crash and fad diets don't work? Same thing for freelancing. You're going to get sick of hearing me talk about habits (and niches too, btw), but that's because when you talk to those freelancers who're happy, making 6- and 7-figure salaries, launching passive income projects, and developing new software products based on what they've learned in their careers…they'll all talk about habits…habits that they've kept up over years. Freelancing is a long game. Good habits are good, but sustainable good habits are even better.
Content Marketing: If you don't know what that is, that's ok (for now), but it's something everybody, and I mean everybody running a business should at least understand. You can read a bit more about it here on Forbes, but know that you might already understand it (it's probably why you're reading this), and, if you invest in it now, it can pay off in the holy grail of great clients that come to you in the future. (And if you're a writer…bonus…you can even learn to sell it as a service.)
Finding Peace: Ultimately, I want you to put together a business that improves your life, not one that has you out here grinding and hustling for their own sake or for show. I want you to make more money for less work and have more freedom to do what you want.
 
If you're still not sure though, no worries! You get your first month free on a subscription plan.
And, there's no commitment...stay only as long as you want. Leave when you're ready, no questions asked. There's even a quick and easy cancel button so you don't have to worry about emailing me (unless you want to contact me about anything. That's connect@blackfreelance.com if you ever do.)
Here's the thing about the Academy. I don't want you to need it forever. Eventually, you should get to a point where you're ready to either move on and stretch those freelance wings, OR stay because of the support you're getting and giving to other up-and-coming freelancers.
Either way, work is changing.
Employers aren't looking out for anybody the way they used to and you don't want to wait until a layoff or health issue to try to play catch up. (I did both and let me tell you…it's not cute.)
Don't put off controlling your income and work-life any longer. Take a step to invest in your life and protect your career — join the BlackFreelance Academy today!
(while you're here, check out some of our member's successes here )
Not ready to invest in your freelance career? Check out this free (and really informative) newsletter.