This is where the rubber meets the road
(so if you haven't filled out your Freelance Workbook yet, you're going to want to start here.)
Strong freelance careers are built on habits, a professional community, and an understanding of your business environment. If you've ever been employed, those things have been (mostly) been provided for you, so your muscles have probably gotten a little…weak. Now that you're a freelancer, you need those more than ever, but let me tell you something I learned from experience…they can be really hard to cobble together on your own.
…and that's where the Academy comes in.
You're basically getting a freelance coach walking with you, week by week to keep you focused on your goals, building out the basics of your freelance business, and shaping a life of more freedom and economic control, not to mention a bunch of other great stuff like…
Help establishing and maintaining those critical, foundational freelance habits that keep your business healthy with themed monthly challenges
Resources to work through specific freelance challenges (like interviewing a prospect and building a better contract) with How-To Guides
A leg up in getting over slumps and earning problems with weekly job updates and marketing tips
Courses, e-books, and templates to make your freelance life easier
Daily connection to your new freelance "coworkers" via our Skype group chats
Listing of your freelance business on BlackFreelance.com as well as personal notification of special jobs and freelance opportunities that get sent to me (Gig Alerts).
Access to our affiliate program where you earn for each new member you bring along with you.
I know you're wondering how much a membership costs by now, so let me just get it out there…to keep it accessible to as many people as possible (because more of us need to be taking control of our income) and make sure it's easy on your wallet, I keep the price at just $7 per month (like I said, less than you pay for Netflix). That means if you sign just one one client that you wouldn't have on your own, your subscription's probably paid for itself…I want you to know you're getting a return on your investment every single month.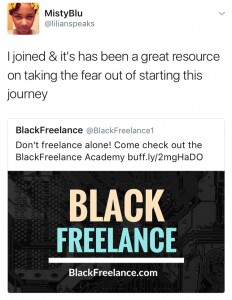 You're probably a little curious by now, so let me tell you a little bit more about what goes on here…
I have a specific set of values that everything we do in the Academy is built around. I'm going to push you just a little in these areas, and that's to help fill in the holes in our businesses that we all tend to miss when we're out here alone on our little freelance islands.
Reality and Numbers: I don't want you out here playing a guessing game or "feeling" your way through freelancing. This life is a lot of trial and error, but you want to go at it with the best information possible. I'm going to encourage you to read market reports, get your skill game competitive, and even study some basic business concepts (which isn't hard to be honest…people just like to make it sound like it is.)
Cooperation and Support: This site isn't just about me. Sure, I've got perspective and insight, but you do too. We all do. That's why we have a forum and group chats to share what we all know and learn along the way.
Sustainable Habits: You know how crash and fad diets don't work? Same goes for freelancing. You're going to get sick of hearing me talk about habits (and niches too btw), but that's because when you talk to those freelancers who're all happy, and making 6- and 7-figure salaries, and launching passive income projects, and developing new software products based on what they've learned in their careers, they'll all talk about habits…habits that they've kept up over years. Freelancing is a long game. Good habits are good, but sustainable good habits are even better.
Content Marketing: If you don't know what that is, that's ok (for now), but it's something everybody, and I mean everybody running a business should at least understand. You can read a bit more about it here on Forbes, but know that you might already be doing it (it's probably why you're reading this), and, if you invest in it now, it can pay off in the holy grail of clients that come to you in the future. (Add if you're a writer…bonus…you can even learn to sell it as a service.)
Finding Peace: Ultimately, I want you to put together a business that improves your life, not one that has you out here grinding and hustling for their own sake or for show. I want you to make more money for less work and have more freedom to do what you want (even if that's just to work more).
If you're still not sure though, no worries! You get your first month free (you'll get an alert right before the trial expires) along with a copy of my mini e-book, The Six Essential Pillars Of Your Freelance Career to keep and use for yourself even if you don't hang around. And, there's no commitment...stay only as long as you want. Leave when you're ready, no questions asked (there's even a quick and easy cancel button on your profile).

Seriously, work is changing. Employers aren't looking out for anybody the way they used to…don't put off controlling your income and work-life any longer. Take a step to protect your career and join the BlackFreelance Academy today!
(while you're here, check out some screen shots from the Academy…)
Not ready to invest in your freelance career? Check out this free (and really informative) newsletter.