Don't freelance alone! Try a free month at the Academy today…

Hey!
I'm Megan, and I'm a Black freelancer. I built this program because it's something I wish existed when I started my freelance career a few years back.
Freelancing can change your life, but in the journey, some people get lost along the way. Sculpting your career can take some time (freelancers tend to say 2 years to get a full-time business going) and I really believe it's because they didn't have the support they needed to push through the rough spots, celebrate victories, find opportunities, and keep their rhythm.
That's what the Academy is for…it walks with you, week by week to keep you focused on your goals, building out the basics of your freelance business, and shaping a life of more freedom and economic control.
It's designed to build on all the free materials here on BlackFreelance, so you'll get the most out of the Academy if you kick things off here..
Here's what you'll find in the BlackFreelance Academy…
Help establishing and maintaining those critical, foundational freelance habits that keep your business healthy with themed monthly challenges
Resources to work through specific freelance challenges (like choosing a niche and building a better contract) with How-To Guides
A leg up in getting over slumps and earning problems with weekly job updates and marketing tips
Courses, e-books, and templates to make your freelance life easier
24/7 connection to your new freelance "coworkers" via our group chats
Listing of your freelance business on BlackFreelance.com as well as personal notification of special jobs and freelance opportunities (Gig Alerts).
It costs just $7 a month. (That means if you sign just one client that you wouldn't have on your own, your subscription's probably paid for itself.)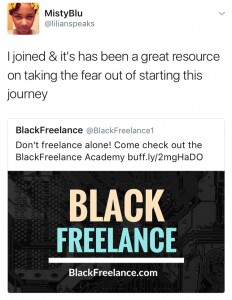 If you're still not sure though, no worries! You get your first month free (you'll get an alert right before it expires), along with a copy of our mini e-book, The Six Essential Pillars Of Your Freelance Career to keep and use for yourself even if you don't hang around. Also, there's no commitment...stay only as long as you like, leave when you're ready, no questions asked (there's even a quick and easy cancel button on your profile.)

Don't put off controlling your income and work-life any longer. Join the BlackFreelance Academy today!
(Check out some screen shots from the Academy…)
Not ready to invest in your freelance career? Check out our free (and really informative) newsletter.