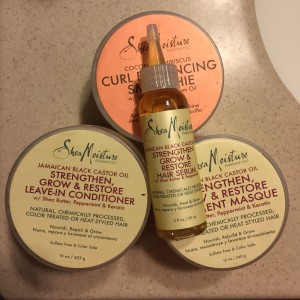 Freelancers can learn a lot from SheaMoisture's recent "progression" even deeper into the #AllHairMatters woods.
To be fair, growth is challenging, and missteps are a part of business, so I tried to find some logic behind their decision to release a commercial that prominently featured White women and their hair needs…more money in a larger market? Opening up to the demographic of mixed families? Expanding its consumer base? …but none of those make even basic business sense. From every angle, it looks just like the simple mistake so many freelancers get tripped up by — making a decision based on the (misguided) idea that going broader means more money.
I mean, look at the business environment SheaMoisture (Sundial) was facing…
The broader market: The (highly murky) opportunity to expand into the over-served, White hair-care market by "opening up" their existing SheaMoisture brand (they have three, sister brands)*
Their current customers: A strong and loyal base of Black (mostly women) buyers who were a portion of a half trillion-dollar market (in the U.S. alone!) where we invest significantly more on our hair than our White counterparts.
The potential: The opportunity to go deeper into the high-spending, only marginally competitive Black haircare market and develop innovative products and brands. They already have a strong foothold and have the potential to build unprecedented global market knowledge and insight.
If you were facing options like these, I can't think of one experienced freelancer who wouldn't roll right past the broader market and jump at those last two as golden opportunities to improve your current offerings and niche even further with your marketing and what you offer.
This though, requires respect for the niche, something SheaMoisture seems bent on proving they don't have.
They'd need someone on board who's willing to treat Black women buyers as a unique demographic with our own needs, motivations, goals, and social concerns — not just White people (who most business studies and advice are based on) with different preferences.
I can almost guarantee that SheaMoisture simply didn't take the time to look at the Black women (whose money they built the company on in the first place) and ask us WHY we purchase their products over others.
To ask us how we'd feel if they offered mainstream lines.
To ask us what our reactions would be if they did it in the sloppiest way possible and focused on "representation" over our behavior as consumers.
(Side note: the only thing that might make sense to me is gambling on expanding their line to areas of the world where a White face in a commercial might not be as much of a liability, but doing that at the expense of the U.S. market?…I dunno.)
SheaMoisture missed a grand opportunity to tighten their focus, get more work out of their name, and blow past the labor and risk of jumping into a completely new niche while gambling with their existing brand. They could have used their core brand to cater to athletic Black women, the changes that happen with older Black hair, even tying into some of the hair typing systems that are so commonly used (kind of like they do with their low porosity options) to practical products.
They have (or had), SO much opportunity to leverage the energy and community behind Black hair, and it looks like they're blowing right past it.
The moral of this story though, for you as a freelancer, is that broader isn't always better. SheaMoisture smartly went narrow when they came out of the gate, and you should likely do the same.
I can't tell you what's going to happen with Shea Moisture, but I just don't see much incentive for White women to use their products as anything more than something to test drive over a weekend.
If you want to avoid making some of these same mistakes in your freelance business though, check out some of these Niche Resources.
Megan
*Though they do seem to be focusing on White women who see their hair as a "problem", which is a problem unto itself and a tell that they didn't understand why Black women started buying their products in the first place. I'd be willing to bet that, if they asked, it would come down to a mix of effectiveness, buying Black, recommendations, and their organic ingredients. Women with natural hair have largely made peace, or are in the process of making peace with how our hair is viewed in society. Ideally, I think they should have just spun something off for White women instead of risking their core brand.