This post will help you with Phase 1 of the Black Freelance Foundations Workbook…if you haven't started yours yet, download it now!
You wouldn't know it by spending time on the Internet, but blogging is just the tip of the iceberg when it comes to ways you can get paid to write.
From content marketing to technical writing, your words can earn you much more than you probably know, and maybe even launch an entirely new career. If you want to make the jump from blogger to pro writer though, you'll likely have to make a shift in mentality.
I blogged for a good 10 years, working to build income through everything from ads, to affiliates, and even starting my own publication before I landed on freelancing as my preferred way to make money from my writing. If you're interested in making a similar transition, here are 5, key differences between blogging and writing as a freelancer that you'll want to keep in mind.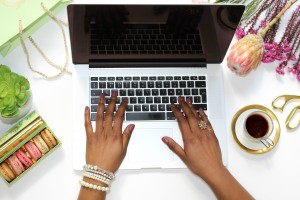 Inspiration is optional.
When most of my writing was blogging, I would come home from work and just spill ideas about my life and thoughts. I churned out a lot of words, but it was when I felt like it.
As a freelance writer, I've had to learn how to basically write on command, even when it was about topics that didn't particularly interest me (I found a way to get interested) and sometimes, even when I really didn't feel like it.
I won't lie, at first it was kind of difficult, but those checks eventually made it easier. With time, I learned how to write when needed and approach writing in a balanced way that also got me paid.
We put ourselves last (or at least not first).
Blogging, for the most part, is inherently self-focused. Your life, your ideas, your timing.
Even when you're writing to serve your readers, a lot of the decisions still come from you. As a freelance writer, even when you're given a lot of leeway, you're generally in a position where you have to consider someone else's platform's goals and the desires of an audience you didn't build.
This doesn't mean you don't matter (you are trying to build a career for yourself after all) but it does mean that after you decide to accept a job, your desires and goals frequently come second.
We might not even have a blog.
I um…don't really blog anymore.
Back in my days as a blogger, I wrote a LOT. Since my work as a freelancer doesn't tie well with any of the blogs I was maintaining, for my sanity, I let them fall by the wayside…maybe for a while, maybe forever.
I know what you're thinking…"But this is a blog!" True, but if I'm being completely open, I treat the pieces I create here much more similarly to the work I do for clients than I did in my days of pure blogging, and that's because this site has very specific, business-related goals. (Maybe one day though, I'll switch things up and talk more about my freelance life…we'll see.)
Attention isn't that important.
I'm not one to care about a byline or credit (or attention in general). There's nothing wrong with that at all, but there's a huge chunk of freelance writers out there who get absolutely zero credit for the work they do.
My favorite and best paid work, the work that's $700+ per page, you'll never know I did it, and that's just fine by me. My personal goal as a writer is to build a reputation within my niche as a person who creates high quality words that get businesses results. Anything else is just extra for me since income trumps attention in my career.
It can be tricky when you're transitioning from blogger to freelance writer, to learn to discern attention for its own sake (especially the exploitative kind) from the kind that helps you reach your writing career goals. With time though (and with a few bad clients), it'll come.
We value our time.
I'm not going to say that bloggers don't value their time. I did when I was blogging heavily, especially since I was doing it after a full-time job while in grad school. As a freelance writer though, I have a dollar sign on my time. If you'd like to see your freelance career grow you'll start to think the same way since every moment you're not getting paid to write, is likely a moment you could be getting paid to write.
All that though, is my experience…if you've made the transition from blogger to freelance writer or just have thoughts on what you just read, drop 'em in the comments!
Megan.