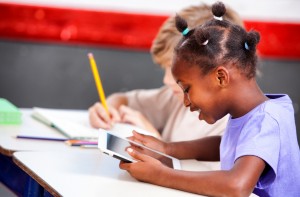 This post will help you with Phase 2 of the Black Freelance Foundations Workbook…if you haven't started yours yet, download it now!
So something I'm noticing about a lot of specialized tech writers…they don't normally have much experience in their industry–they simply stay up on news and write about it regularly. I write on healthcare tech and a good number of writers come from outside the industry. This has meant that people with degrees or experience can pretty easily carve a writing career out for themselves.
Considering how heavily Black people are involved in education, my guess is there's strong opportunity in writing on tech in education, especially since t's just really starting to take off–one big sign is companies like Samsung are starting to get involved…check out this article for an example, as well as their Twitter account dedicated to just education technology. I'm betting there's opportunity for niche specialization at levels ranging from elementary to higher ed.
Here are a few resources you can connect with to get started…
I ran across these articles that would be great sources for putting together your own work. They're also good examples of the kind of articles that are getting published right now Check them out and see if you think you could do something similar…
Want some tips on developing your freelance specialization? Check out these articles from BlackFreelance…