Black entrepreneurship is an old and proud tradition, even in "emerging" areas like STEM.
Digging into the history of Black entrepreneurship yields much more than a list of the first Black faces to earn a certain dollar amount or join an executive board — what's most fascinating about many Black entrepreneurial paths is the innovative perspective, insight, and execution that flowed through their businesses — businesses that went beyond spreadsheets and technology, and that acknowledged specific social issues, leveraging the power in treating underserved, and under-respected markets and consumers as worthy of legitimate business considerations.
That's why during Black History Month here at BlackFreelance, we're going to present a series of short insights into Black entrepreneurs, looking at not only what gained them credit in the business world, but also why their innovation and accomplishments mattered.
Sarah E. Goode
Known For
A life as an entrepreneur and inventor
Being the first African-American woman to be granted a S. patent (number 322,177).
Inventing the folding cabinet, or hide-away/Murphy bed.
Why All That Matters
Multiple definitions of entrepreneurship exist, but Sarah E. Goode fit the most stringent — solving problems in new and innovative ways. Her invention was born out of the challenges her customers faced, and solved a fundamental problem in their lives.
Sarah was born a slave around 1850, and moved to Chicago after being freed at the end of the Civil War. She married a carpenter, and started a furniture store that served her community. That community lived mostly in small, cramped apartments, limiting the amount of furniture they could buy, and putting a high value on space in their lives.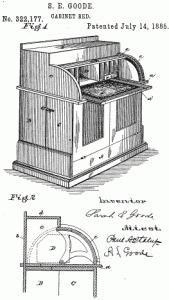 Sarah, whose father was also a carpenter, created a design for a piece of furniture that converted from a bed at night, to a rolltop desk when not in use. The bed was made up of a mattress and spring support, and was attached via hinges so it could be raised or lowered whenever necessary. The rolltop desk also served as a storage solution.
The Impact
Goode's invention was brilliant on more than one level— it solved a practical problem for her customers, and did so in a way that would increase her business as a furniture shop owner.  Beyond that though, it touched on a fundamental issue of human existence for her community. Her folding cabinet bed helped create living spaces that were more than functional and allowed her customers to incorporate elements of aesthetic enjoyment and flexibility into their day-to-day lives.
We'll be adding more inventors as Black History Month progresses, so stick around!