This post will help you with Phase 3 of the BlackFreelance Foundations Workbook…if you haven't started yours yet, download it now!
I'd probably been freelancing full time for a good year before I came to the dreadful realization that I might need to create a resume.
My first full-on job involved sifting through thousands of resumes, and I was jaded by years of sorting through piles internet resume-writing advice. Putting together another one, especially from scratch, was the last thing I wanted to do.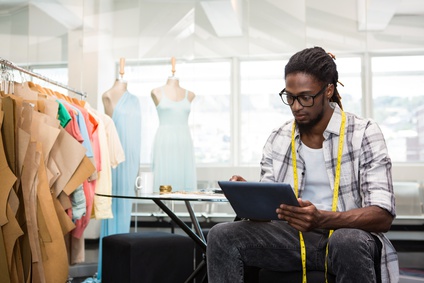 I talked myself into it anyway though, put together all the basics, made it look all graphic and colorful…and never used it again.
These days, on the very rare occasion someone does ask for my resume, I give them a version that's basically my old, employed resume, with "Content Strategist" listed as my most recent position. But again…people don't really ask.
That doesn't mean you don't need or resume or will never use one. It just means that resumes aren't near as big a deal in the freelance world as they are in the employed space. There's a reason for that.
Employers, when they ask for a resume, are typically looking for a complete picture of your education, how you move through organizations, an extensive skill list, and all kinds of other piddly things that they use to decide whether you're a "culture fit" (or whatever.)
Most people hiring freelancers? They want to know that you can get the job done and that you're reasonably pleasant to work with.  The best way to answer that, is with a well-written profile.
Building Your Profile
Your freelance profile, like a pretty much everything you do as a freelancer, is a living document.
You're going to start with the basics. As you grow, you'll figure out where your skill gets you the best return, learn to stay up on industry trends, and change your profile to reflect that. What's great about it, is that you don't have to get it perfect the first time, you just need to get it out there. (I personally still update mine 3-4 times a year based on how my business and niche grow and change.)
At first, you're going to focus on getting together a basic skeleton and creating versions of different lengths for bidding sites, LinkedIn, your website, and cold contacting clients. You get that done, and you're good to go.
What You Need
We're going to start off with the absolute basic bare minimum that you need for a profile. This is going to be what will get you started, but will also be good to for shorter marketing tasks like emails and profile blurbs that some job sites have.
What you do: This is your skillset. You want to be up front with this and make sure it comes before your backstory, passion, or motivation. Remember — center your reader. They need to know what you do ASAP.
Who you do it for: This is your niche. You want to let the reader know that you want to work with them. Don't worry if you don't have one yet. Even something as simple as "businesses", "publications", "bridal parties", or "entrepreneurs" will work.
Keywords: People search for freelancers. That's in search engines, on UpWork, on LinkedIn…all over the place. This means your keywords need to be clear and reflect both your skillset and your niche. Read this post for some ideas, but also be creative with your skillset and individuals skills. If you're a writer, make sure to include that term, but also consider variations like "content creation", "blogger", and "ghostwriter" where they fit.
Qualifications: This is where you give your reader a few extra reasons to sign up with you. Summarize your education, work history, interests, and additional skills (developers and tech folk especially) here.
Contact: This is CRUCIAL don't make people fight to contact you. Seriously. Include your email, LinkedIn profile, website or phone number and make them clear. You might even want to invite them to contact you.
So what's this basic profile look like? Here's a quick example for a new writer who wants to get into the world of education tech writing.
I'm a freelance writer who creates content for publications and businesses in the education technology space. I've taught at the primary level for 10 years, regularly attend EdTech conferences, and keep myself connected with everything going on at the intersection of learning and tech.
If you'd like to get in contact with me, you can email meg@megwritesedtech.com, or call me at 555-552-6374.
Next Level
As you get more experience under your belt, you're going to add to that basic skeleton. Here are a few things you'll see emerge over time.
Value Statement: This is why clients hire you over other freelancers. It should connect directly back to their business problems, ideally, revenue or core mission statement.
Bragging Rights: If you've got a big client or really strong statistic to share, show it off!
Portfolio: After working at this freelance deal for a while, you'll likely have developed a decent portfolio. Invite people to visit.
Testimonials: It's hard to get a full testimonial into a profile, but you can work a few nice words or compliments in.
Let's take a look at how a profile might look once someone's been at it a few years and learned where they fit.
I'm a freelance writer who helps EdTech businesses and organizations develop lead-generating online content. I've created content ranging from case studies and white papers to blogs and brochures for national names including Samtel, and ISTE.
I have an M.S. in Instructional Technology, have taught at the primary level for 10 years, and keep myself connected with everything going on at the intersection of learning and tech. My clients have seen up to 200% increases in their website traffic and experienced better brand awareness at conferences as a direct result of my work.
You can view samples of what I do at http://MegWritesTech.com/portfolio but if you'd like to talk about how I can help your organization meet its strategic goals, you can reach me at meg@megwritesedtech.com, or 555-552-6374.
Feel free to use both of those examples as skeletons to build out your own profiles and cold contact emails.
If you've got any other questions on building a freelance portfolio, drop them in the comments!
Megan