Pros
Inexpensive
Lightweight
Comfortable, no nose slippage
Cute (at least mine are)
Cons
They smudge if you look at them sideways
These are one of those products I wish I'd discovered years ago.
Thankfully I've managed to make it into my 30s without needing any kind of visual aids, but lately I've noticed my eyesight…slipping just a bit.
It might be age, but part of me can't help but notice that my eye fatigue issues have cropped up just as I started working as a full-time writer. My previous life involved just as much, if not more screen time, but not in the constant, high-contrast way that writing lends itself to.
To buy myself a few more years without glasses/contacts, I've been doing exercises a doctor gave me when I was only about 8 years old (they consist of focusing on a finger a few inches in front of your face, and then something 20 feet away), but something else has recently gotten my attention, and those are computer glasses. (Here's an explanation of how they work as well as how effective they may or may not be.)
They're intended to reduce eye strain from staring at screens for long periods of time For a while you could apparently only find more expensive options like Gunnar (~$80) and prescription coating can cost upwards of $175, but I ran across a pair of GammaRays on Amazon for under $20 and went with those to at least try the concept out.
I was so excited…my days of going to bed bleary-eyed were about to be over. When they finally game, I was elated.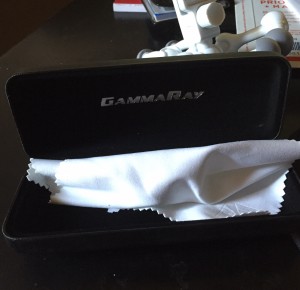 You see that right there? That's all I got. A case and a wipe. Oh wait I'm sorry…and some sandwich crumbs. After realizing I'd paid $18 for the remnants of somebody's lunch, I ran back to the Amazon box thinking that maybe the glasses had sneaked out of the case to get some air during shipping. Nope.
After a terse email to GammaRay, then to Amazon (who had apparently fulfilled the order), and a week of waiting, I received the yellow-tinted glasses you see here.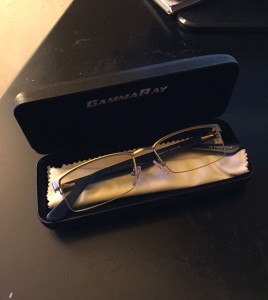 I really like them and they're easy even for a non-glasses-wearer like me to remember to put on for one reason…you feel a difference. I'd compare the difference using them to driving in the rain with or without polarized lenses. You notice more clarity and your eyes don't feel like they're working quite as hard.
When evening comes, I don't have that eye-drain feeling reminding me that I've been sitting in front of screens all day.
One day I might spring for the Gunnars or another higher-end brand with slight magnification if I can find a reason. Until then, I'm very happy with my smudgy GammaRays, and glad I got that extra polishing cloth.