This post will help you with Phase 2 of the Black Freelance Foundations Workbook…if you haven't started yours yet, download it now!
When I started freelancing, I had zero concept of how freelancers lived. Entrepreneurs? Sure. I've got family and friends all over the place who've started their own businesses, but freelancers? As far as I knew I'd never seen one in real life.
And that's a problem.
In the U.S. alone, half of us are expected to be freelancing by 2020 but I'd be willing to bet that most folks out there don't even know what freelancing really means, let alone what it's actually like. I mean in general…not for those few lucky writers who are making $300 an hour writing about what a random Kardashian had for lunch (because they knew somebody who knew somebody), or even those programmers who launched into an immediately successful freelance career with the help of 20 years' experience and a hefty client portfolio.
I want to talk to you a little about what I've experienced, how I've seen most other freelancers live, and what I believe is the reality for the majority of us out there.
A little side note really quickly…this post is especially important if you're considering building even a part-time freelance career. There's nothing like the reality of this life to send you running back to a pseudo-safe life with an employer, so getting a clear picture of what potentially lies ahead will be a big help in you building a freelance life that genuinely works for you (and isn't just a copy of somebody's life on Instagram.)
It's Slow
About a month after I started freelance business writing for real, I decided to reach out to a writer who was basically doing what I wanted to do. He shared quite a bit of info with me (you'll find most freelancers view each other as help more than competition), but one comment in particular had me sit back in my chair and reconsider my life…
"It takes 18 months…maybe 2 years to find your place in all this."
2 years?!  There was no way. How did people survive? How would I survive? Why would it take so long? I took a deep breath, sat back, and realized that even if he was wrong, he was probably right at some level.
If traditional employment is a drive-through, freelancing is deciding what you want to eat, looking up a recipe, making a shopping list, and visiting 4 markets before you even come home and start cooking.
Freelancing is custom-building your work life and it takes time.
Time to figure out your specialization. Time to build a reputation. Time to learn how to navigate finances, and client management, and your needs as a freelancer.
Don't get me wrong…just like cooking for yourself has a ridiculous number of benefits (financial, mental, health, etc.), so does freelancing. I can tell you that after I cracked my intro time, I was making much more than my previous job for the time I put into my work, Mondays were fun, my health had improved, and my life was generally beautiful.
The time was worth it, but if I hadn't understood that from the beginning, I likely would have run back to another "high-paying", stressful job, that at best, felt familiar.
It's Diverse
Once I started freelancing and running into other people doing the same thing, I ran into a mix of ages, income levels, educational backgrounds (and to a lesser extent), races — looking at your average article on freelancing though, you wouldn't know it.
Save a few sites, if you didn't know any better, you'd think that there was an entry exam that required you to be thin, White, relatively well-off, cis-presenting, young, attractive, and only wear muted colors. (What is that anyway? I can dress much more boldly now than when I had an employer asking me to change my dress to keep everybody comfortable.)
Some of us work from Starbucks, but my bet is most don't.
Some people may brush the concept of representation in online media off, but if you are not in a region where freelancing is common locally, and the Internet is your primary connection to the world of freelancers (like me), you'll end up thinking that this is freelancing — that's a problem because if there's anything you need to succeed as a freelancer, it's to really believe that someone like you actually can succeed.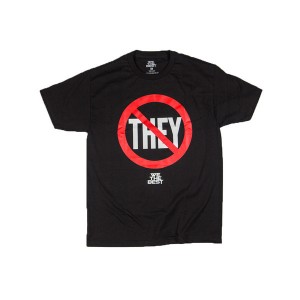 It's More Than Writers And Photographers
Quick challenge: Name a freelance profession that doesn't include writing or photography.
If you said anything at all, you're doing better than I was when I started this freelance deal…better than most people really, and that's likely because when you talk freelance, the conversation is almost always around writing and occasionally you'll hear web development and design pop up.
That makes sense, because in the past, those jobs fit with how freelance work worked. Now though, with all the online collaboration and communication tools available, you'll find freelance customer service reps, package designers, academics, engineers, therapists…pretty much anything.
Even within those fields though, there's a LOT of variation.
Freelance writing is more than a byline in Ebony. I only write for businesses who sell to other businesses. Some writers make a living — a complete living — by perfecting their skills at writing sales letters, or landing pages, or just online content for the marijuana industry. Take the time to specialize and learn your niche…over time as you build a name, skills, and connections, it will pay off, regardless of the type of freelancing you do. (Really…please do, it's how successful freelancers make the best money)
It's Really…Not That Glamorous
I've got a theory.
I think that a bunch of people who used to make up the Location Independent corner of the business Internet are in the process of morphing into the freelancing corner of the Internet (that would honestly explain the pictures.)
Now…freelancing can very likely mean you can live a location independent life and work from whatever corner of the globe can provide you with decent Internet — that's part of what makes it great. But you know what? Being location independent doesn't automatically mean travel.
I'm about as location independent as they come, and I still almost exclusively work from home (I'm working on changing that…I really am, but habit/comfort/routine/wanting to be left alone while working and stuff.) Travel costs time and money, and if you're like me and are someone who developed their travel habits in a work environment where work time and free time were clear cut, making the adjustment to a new relationship to moving about might take a while.
On top of that, way too many of us work for freedom in our careers for other, less glamorous reasons. Freelancing has meant that I don't go into an office anymore, but it's also meant that when my father went into kidney failure a couple years back, I could go to the hospital every day for a week to relieve my mother without worrying about repercussions at my job. Plenty of people freelance so they can care for family or friends long-term and simply have a life where their schedule is not fully dictated by an employer.
Plus, plenty of freelancers work inside actual offices or meet regularly with clients, so while they might work from home, they're pretty much tethered to a general location.
You're An Entrepreneur
Not many of us call ourselves that, but if you're a freelancer, you're a really tiny business doing business with other businesses.
By all but a few definitions of the word, you're an entrepreneur.
That means you're answering questions about marketing, branding, profit…all that stuff. It's simpler than running a traditional business, but if we're going to be real (and that's one of the main missions of BlackFreelance), not treating a freelance business as a proper business has done quite a few freelancers in.
I'm not saying you need an MBA, but I am saying that freelancing — successful, long-term freelancing — is more than just copying your LinkedIn profile into Upwork. You're going to be working to drive business, differentiate yourself from competition, develop your services in response to what your market needs and, if you're like a lot of freelancers, possibly even eventually turn what you learn as a freelancer into a product and transition into traditional entrepreneurship. (And you'll be WAY ahead of a lot of other entrepreneurs since you would have spent time as a freelancer getting intimately familiar with a group of people's needs.)
So those are the five misconceptions that I've noticed. If you've got any ideas you had about freelancing that you found out weren't true, share in the comments..and when you're ready to start your freelance career, come claim your free month at BlackFreelance Academy (it's a great community and you'll establish the most important basics of your career in a sustainable way.)
Megan.